Discover JOJO'S BIZARRE ADVENTURE: ALL-STAR BATTLE's Exquisite Edition!
March 26, 2014
Special Edition goes BLING!
NAMCO BANDAI Games Europe S.A.S announced today that JOJO'S BIZARRE ADVENTURE: ALL-STAR BATTLE will be getting an exclusive and very limited edition: the Exquisite Edition! This new fighting game based on the legendary JOJO'S BIZARRE ADVENTURE license is developed by famed Japanese developer CyberConnect2, which has been widely praised for delivering an authentic and high quality anime experience to video games.
Gamers, JoJo fans and supporters of the many great British, children's and youth based charities that GamesAid fundraises for can bid for the one of a kind game package now and for the next ten days until the auction closes on April 5th at:
http://cgi.ebay.co.uk/ws/eBayISAPI.dll?ViewItem&item=310910401330
As previously revealed, JOJO'S BIZARRE ADVENTURE: ALL-STAR BATTLE will have an embarked Arcade Mode and all of the balance changes that have been applied in the Japanese version post-launch!
To celebrate this amazing adaptation, NAMCO BANDAI Games Europe decided to create a really unique edition named the "Exquisite Edition". This distinctive edition contains:
JOJO'S BIZARRE ADVENTURE: ALL-STAR BATTLE full game
Special packaging
An amazing and very rare Swarovski figurine made out of 6000 Swarovski crystals (H: 17cms x 18 cms x 11 cms, W: 380gr)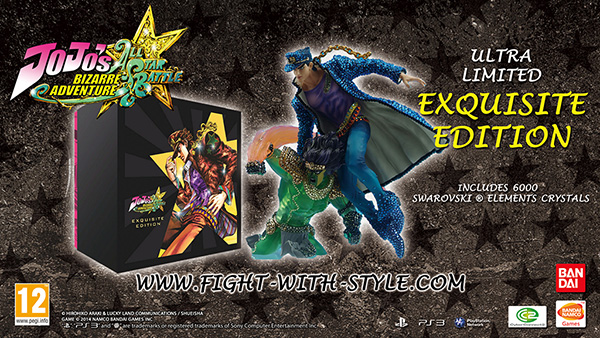 The special edition of 'Jo Jo's Bizarre Adventure is donated exclusively to GamesAid in the UK and one lucky person can bid for the chance to receive this one off in the UK, as well as do something amazing for charity. As an umbrella fundraising organisation any money donated to GamesAid will be divided between a small group of British based youth and children's charities that support young people in a variety ways, nominated by and voted for by members of the British videogames industry
"Offering to our players a high quality game is always our top priority, with JOJO'S BIZARRE ADVENTURE: ALL-STAR BATTLE we are clearly reaching and topping this goal!" said Hiroaki Ochiai, Senior Vice President of IP Strategy at NAMCO BANDAI Games Europe. "NAMCO BANDAI Games is a company that really cares not only about its consumers, but about everyone. This is how the idea of creating a very unique special edition and offering the money to a charity association is born! From our point of view, JOJO'S BIZARRE ADVENTURE, with its legendary status is the best license to do such a campaign and heighten the awareness of the whole community!"
"We're thrilled that Namco Bandai is giving gamers the opportunity to support GamesAid in such an exciting way. As a volunteer run organization every penny bid will go straight to helping the children and young people that face incredible emotional and physical hardships that our charities help." Said Stuart Dinsey, Chairman of GamesAid.
JoJo's Bizarre Adventure: All Star Battle will be available on April 2014, 25th in Europe & Australasia. For the latest news and updates, join us on www.Fight-with-Style.com
For more information about GamesAid go to: www.gamesaid.org